Pivotone specializes in designing, manufacturing, and selling RF, microwave and millimeter wave components, devices and module products, used in 4 G and 5 G applications, including wireless base stations, indoor coverage and network optimization systems, microwave point-to-point communication systems, IoT, satellite communication equipment and so on.
Products include low PIM filters and diplexers; dielectric filters; mutiplexers, combiners and POI; TMA, RRU/ RRH; RF multiport antenna; 5 G MIMO antenna; Off the Shelf products; microwave filter and diplexers; microwave couplers, OMT, isolators and integrated

Overview

Company Video

Radio frequency components and modules


Contact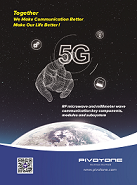 modules. Product technology covers frequency ranges upto 90GHz and beyond.
We have been providing our product technologies and services to customers from worldwide, including North America, Europe, Japan and China, for more than 10 years.
Pivotone's headquarter is based in the beautiful city of Wuxi China, a city near Shanghai, with rich engineering resources, including well-established industrial infrastructure, robust supply chains, and a strong tradition of entrepreneurial spirit.
Appreciate your trust and support, and welcome to contact us at any time for your product needs.
For any further information, please visit us at

Tel: +86.510.8374.0009
Fax: +86.510.8374.2009
Email: sales@pivotone.com
info@pivotone.com
Address: Building 8, No. 8 Xinghua Road Xinwu District, Wuxi City,Jiangsu Province,People's Republic of China.
Website: www.pivotone.com

Post Code: 214000